Windows Admin Center SSO
Windows Admin Center SSO
If you've installed Windows Admin Center (WAC) on a domain joined server and you connect to another domain joined system you'll see a message similar to this.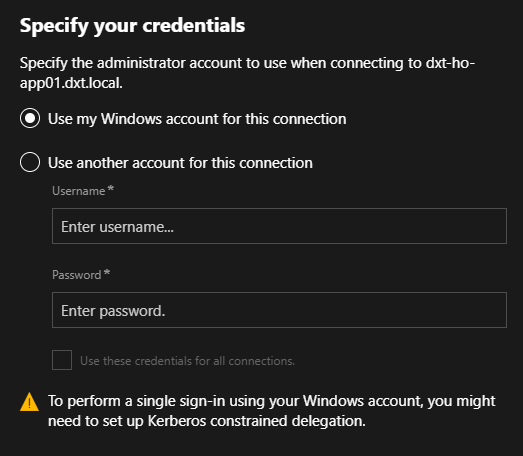 Having to login multiple times is annoying so here's how to make the Single Sign On work with WAC using Kerberos constrained delegation.
Connect to a domain controller as a domain admin.
Open PowerShell as Admin
Edit this script to match what you need.
$SERVER = "SERVER YOU WANT TO ENABLE SSO ON"
$WAC = "WAC SERVER NAME"

Set-ADComputer -Identity (Get-ADComputer $SERVER) -PrincipalsAllowedToDelegateToAccount (Get-ADComputer $WAC)

Run the script.
After that you can connect to that system from WAC using SSO.
If you want to know more you can read Microsoft's document on it here.